Marquardt attends the 2023 New York State Innovation Summit
We were really excited to have participated in the 2023 New York State Innovation Summit, held at the Saratoga City Center on October 16-17. This event, organized by FuzeHub, brought together various organizations from across New York State to explore state-of-the-art technologies, promote innovation, and drive business expansion.
FuzeHub Fosters Innovation and Collaboration
FuzeHub is a not-for-profit organization dedicated to assisting manufacturers, such as Marquardt, and technology companies in New York State grow and thrive. They provide various resources and support to businesses, including assistance with innovation, technology commercialization, and access to industry expertise. FuzeHub's goal is to create partnerships and drive economic development, which aligns perfectly with the objectives of the summit.
Embracing Connections
The summit facilitated collaboration by bringing together businesses, startups, economic developers, and established manufacturers. It served as a unique platform to introduce industry experts and showcase promising early-stage companies.
The event celebrated New York State's leadership in technology-led economic growth, featuring companies in biotechnology, new materials, energy innovation, and artificial intelligence. The discussions revolved around capitalizing on technology convergence opportunities, advancing commercialization strategies, and emphasizing the importance of sustainable manufacturing.
Governor Kathy Hochul's Inspirational Address
A notable highlight of the summit was New York State Governor Kathy Hochul's address, where she emphasized the paramount role of innovation and entrepreneurship within the state. She underscored the need to keep manufacturing operations firmly rooted in New York, reducing dependence on foreign supply chains. Governor Hochul expressed the government's unwavering commitment to local businesses and innovators, like Marquardt, to bring this vision to life.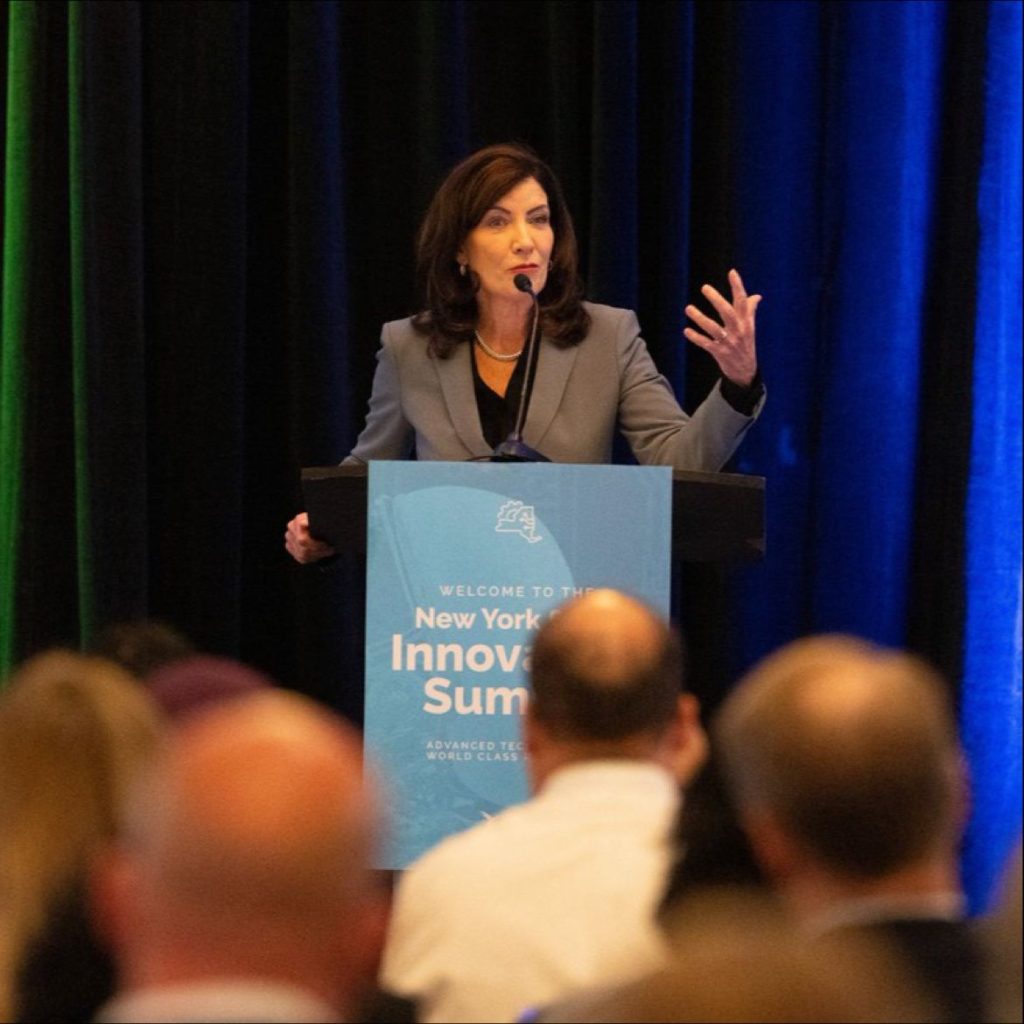 Governor Kathy Hochul at the 2023 Innovation Summit
A Hub of Ideas and Technologies
Finally, the summit featured a diverse array of ideas and technologies. There also were over 60 speakers at the exhibit hall which hosted more than 100 companies. Marquardt showcased its contract manufacturing services, offering support to companies looking to bring their products into production. Learn more about all of our offerings here!
Marquardt actively participated in the 2023 New York State Innovation Summit. This event provided us with the opportunity to engage with statewide partners, explore cutting-edge technologies, and support local innovation. The Innovation Summit consistently proves to be an inspiring experience, and we eagerly anticipate the upcoming summit scheduled for next year, to be held in Syracuse—conveniently close to our manufacturing facility in Cazenovia, New York. 
Contact us to learn more about turning your idea or prototype into a finished product.